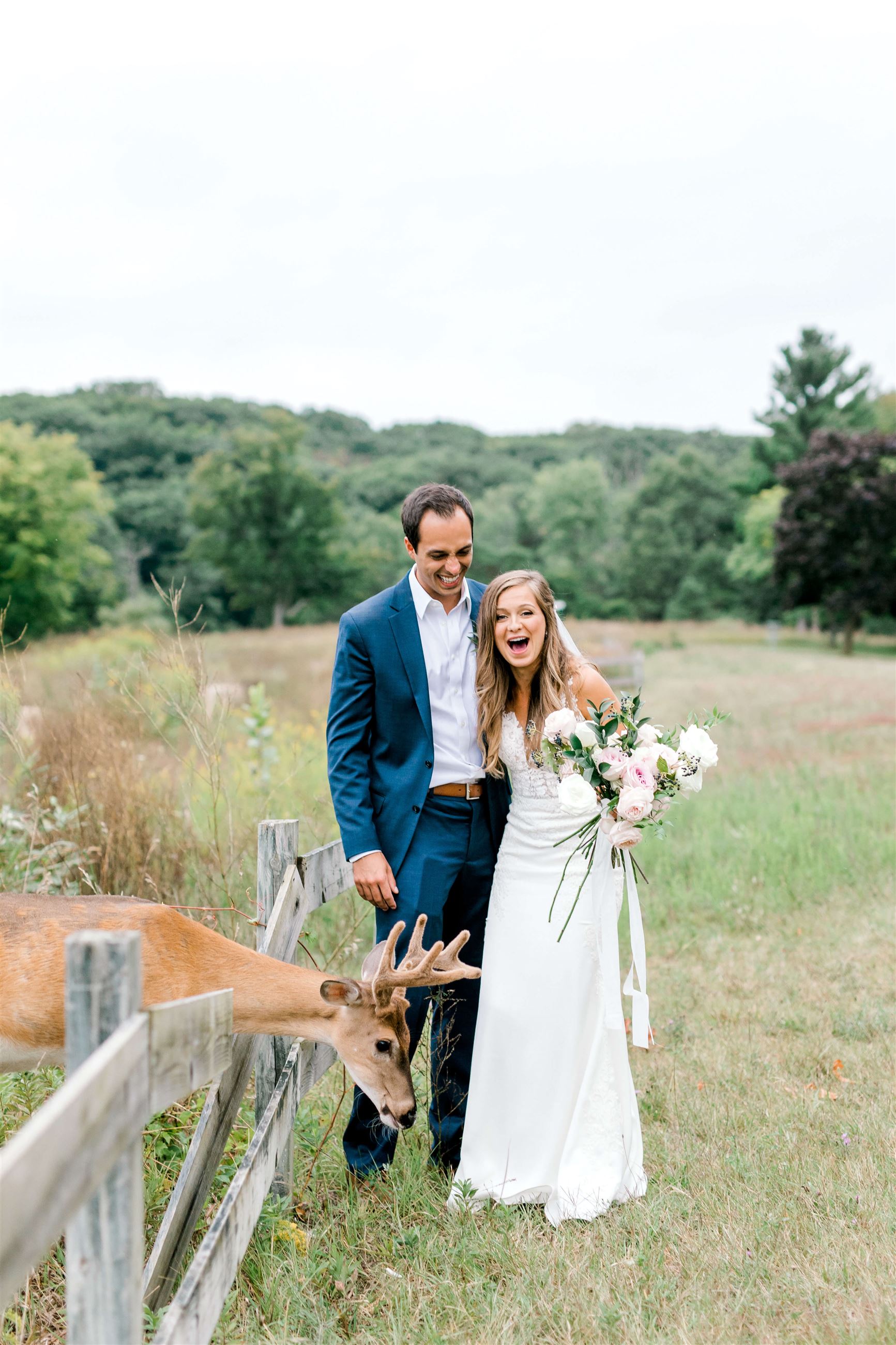 Morgan & Luke
09.01.19
The Felt Mansion
"We met at Grand Valley in our freshman year of college. We had a mutual friend who was on my dorm floor who was actually Luke's lab partner. They were studying together in the library and I just so happened to be in the library and she invited me to study with them. So, us three sat at a table together and we got to know each other. It definitely took a couple of months and we reconnected later and by April, when it came time to go home, he asked me when he could come visit me. We started dating a couple of weeks later! Our homes are two hours apart as he is from Alameda, so our first summer dating was traveling 2 hours to see each other. We dated 4 and a half years before he proposed".
"Luke proposed two days after Christmas in 2017. We had a family trip planned to Florida with his family. On the second day of the trip, we had plans to get cocktails and go to the beach and take sunset pictures and go to dinner. I could tell he was so nervous as he was really persistent that day I wear this certain dress that day. So we are walking down to the beach and he is deep breathing and he starts tearing up and I knew something was up. He proposed on the beach and the best part was my family surprised me by hiding in some brush on the beach and we ended the night celebrating on the beach."
"I had gone to two other places before coming to Fantastic Finds to find my wedding dress. Loved how private and intimate it was as I was the only appointment happening at the time I came. Angelina was my consultant and was really receptive to what I wanted out of a dress and I loved all the dresses she chose. It was my second or third one that I chose after walking the runway and it was just a wonderful experience."
"We got married at the Felt Estate in Holland, MI. We had a Sunday wedding on Labor Day weekend. That weekend, Luke and I's families rented out two houses across the street from each other that slept 38 people each and that's where we got ready the day of the wedding. Luke and all the guys were at one house and me and the women at the other. We got ready and transitioned to the Felt Mansion and that's where I did my first look with my dad. After Luke and I did our first look and we cranked out all our pictures before the wedding. Our ceremony was right outside a white chapel, we wrote our own vows, did communion, had two of our family members sing and we had a confetti toss of leaves. Our reception was under a white tent that had lights on it which included a band and a buffet. Our first dance was to "You are the best thing" and we did the traditional garter and bouquet toss, father-daughter dance, etc. We also decided to do golden hour photos which is when the deer pictures happened.
"So golden hour is a photographer's term for taking pictures at sunset. We were back behind the chapel taking pictures and we saw the deer behind a fence so decided to take pictures of the deer behind us. Then it climbed over the fence and tried eating my bouquet! So, we decided to have fun with it as it decided to stay around for a while. The deer did start to get sassy wanting the bouquet so that's when I decided to give the whole bouquet to the deer. We left to take more pictures and when we went back, the deer was gone but there was one single rose left. Then after the wedding, the photos went viral on social media!"
"Advice for future brides is to do as much preparation and organization prior to the wedding so that the day of you can soak up every moment and be as present as possible the day of the wedding. I was so less stressed the day of because I was so organized and prepared. The day goes by so fast and it's so important to enjoy every moment of your wedding day."
-Morgan
Photographer: Lauren Marie Photography
Venue: The Felt Mansion