Welcome to Bridal Heaven at Fantastic Finds - Michigan's Largest Bridal Salon Featuring Designer Wedding Dresses
WELCOME TO BRIDAL HEAVEN
Fantastic Finds is the home of Bridal Heaven, our gorgeous wedding dress showroom! Our store carries hundreds of beautiful wedding dresses! We have many styles including casual, beach wedding dresses, long sleeve wedding dresses, boho/bohemian wedding dresses and many more! At Fantastic Finds, each bride is given an experience of their own when shopping for their wedding dress. You and your guests will work one on one with a Master Stylist during your appointment to create the vision you want on your wedding day. Our Master Stylists are highly experienced in finding the perfect silhouettes for each bride and creating the look you have been dreaming of. At Fantastic Finds, you will find well-designed, beautifully imagined wedding dresses at price points for every bride to be. Our wedding dresses range from $850 and go up to $4,000. The majority of the wedding dresses in our store are between $1,200 and $2,000. Our wedding dress samples range from sizes 8 - 34 and represent all the trending silhouettes. Be sure to book your appointment today!
Love letters from our real brides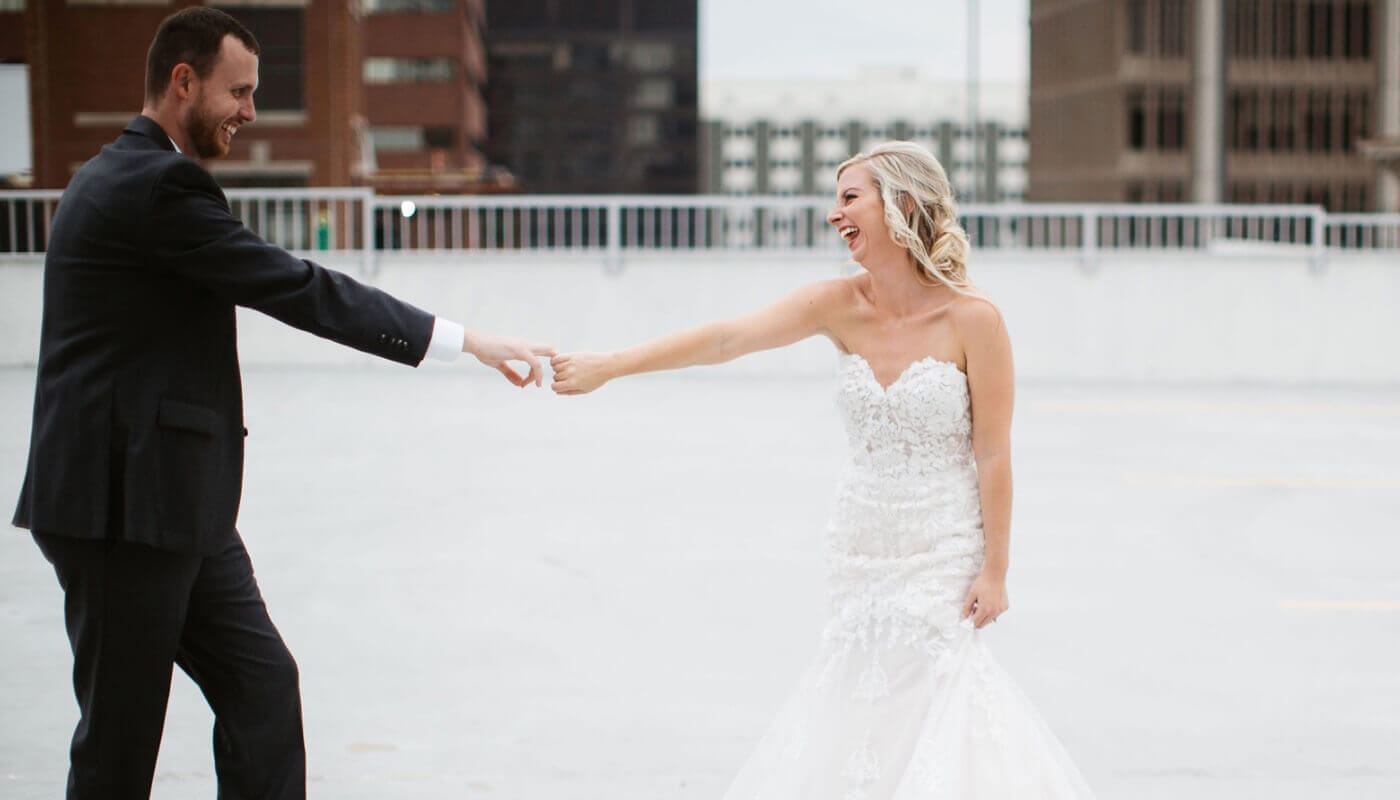 "Angelina made our experience perfect while shopping for my bridesmaid dress. We were greeted with Mimosas, able to shop around for what we were looking for and given many options to choose from. My measurements were perfect and I only needed small alterations due to my height. Overall I would 100% recommend Angelina & fantastic finds for your bridal/bridesmaids needs!!"
Emily R
"My experience started in July of 2020 from the start to end and everything in between was absolutely amazing every time going back for wedding preparations my wedding dress, bridesmaids dresses, and guys tuxedos everything was outstanding Kim is such amazing woman to work with in every aspect of the bridal industry. I give my highest recommendation to her and everyone at Fantastic Finds they make the impossible to possible. my experience wouldn't of been the same without them. I'm forever grateful and holds a lifetime of memories for me."
Siara Sue G
"Donna is amazing! She helped me pick out my bridesmaids dresses, my Mom's dress, my veil, and my wedding dress. She gave an honest opinion when asked and let me try on as many styles as I wanted. I had a great experience and I loved how many dresses they have in stock!"
Alexandria G
Catrese was absolutely amazing with helping find my wedding dress after already knowing I had purchased one but it wasn't for me. I am happy to say I found my dress at fantastic finds!
Dakodah P
"I showed up to my appointment having no idea what to expect, but was met with so much enthusiasm, friendliness and knowledge from Kim. The entire environment was relaxing, fun and welcoming. Kim worked with us for past our appointment's end to make sure I had the best experience and found the perfect dress. I definitely, HIGHLY recommend this bridal salon! Especially recommend Kim!!! Thanks so much — I'm so excited!"
Darby O
I found my dress today at Fantastic Finds. Immediately my whole group was made welcome. Meghan did a wonderful job of pulling dresses that fit my style and gave great direction to the appointment. Meghan and the whole team made me feel confident and beautiful.
Paige D
Dress shopping at Fantastic Finds was a wonderful experience. The Bridal Heaven floor was beautiful and my stylist Mikayla was so kind and helpful. I was nervous about dress shopping and she totally put me at ease and pulled so many different styles to try on that all fit the criteria I was looking for. She was very mindful of our budget and made sure to warn me if any suggestions were toward the higher end. She also went out of her way to demonstrate any adjustments I could make to sleeves, trains, or bustles which was very helpful. I found a few frontrunners and though I did end up choosing a dress elsewhere, I want to emphasize how great of a job Mikayla did and how much fun Fantastic Finds made the experience for my group. I definitely recommend them.
Sara C
Meagan was the absolute BEST consultant I could have ever dreamed of working with to find a dress for my big day! I walked in with no expectations, gave her some of my favorite things, and she crushed it. She made me feel comfortable, beautiful, safe, and like I could trust her from the very get-go. Highly highly recommend Meagan as your consultant at Fantastic Finds!!
Megan G
Thank You so much to Donna for helping me find my dress! This place is BEAUTIFUL!
Kendra S
Mikayla was so wonderful to work with. She made me feel comfortable in a semi-stressful situation. She was quick, efficient and listened to everything I was wanting in a dress.
Lauren B
Donna was absolutely amazing! We drove 3.5 hours to come here and it was 100% worth it! She was so knowledgeable and so helpful and was able to help me find my dream dress. Thank you Fantastic Finds!
Jordan Z
Fantastic finds exceeded my expectations entirely! I've never felt so important and beautiful. Donna was absolutely amazing at helping me find my dream dress. I can't recommend this place enough!
Lindsay G
I do not have enough good things to say! I went in not sure what I wanted and Kate made sure I left with my dream dress! They were so nice and I didn't feel rushed at all! She picked out so many amazing dresses for me and I appreciate everything they did for me so much! 10/10 recommend!
Kenna W
I bought my wedding dress here and had the most amazing experience! I felt like an absolute princess and the walking down the runway in my dress is how I knew it was the one for me! Everyone was super helpful and kind while helping find what I was looking for! We also rented our suits from here and Kim was absolutely wonderful to work with. She was very personable and I could tell she genuinely cared about us and our day! And the suits looked amazing on the guys too!
Jessica C